BatesCarey Enters 15th Year of Top Rankings From Chambers USA
4.26.2019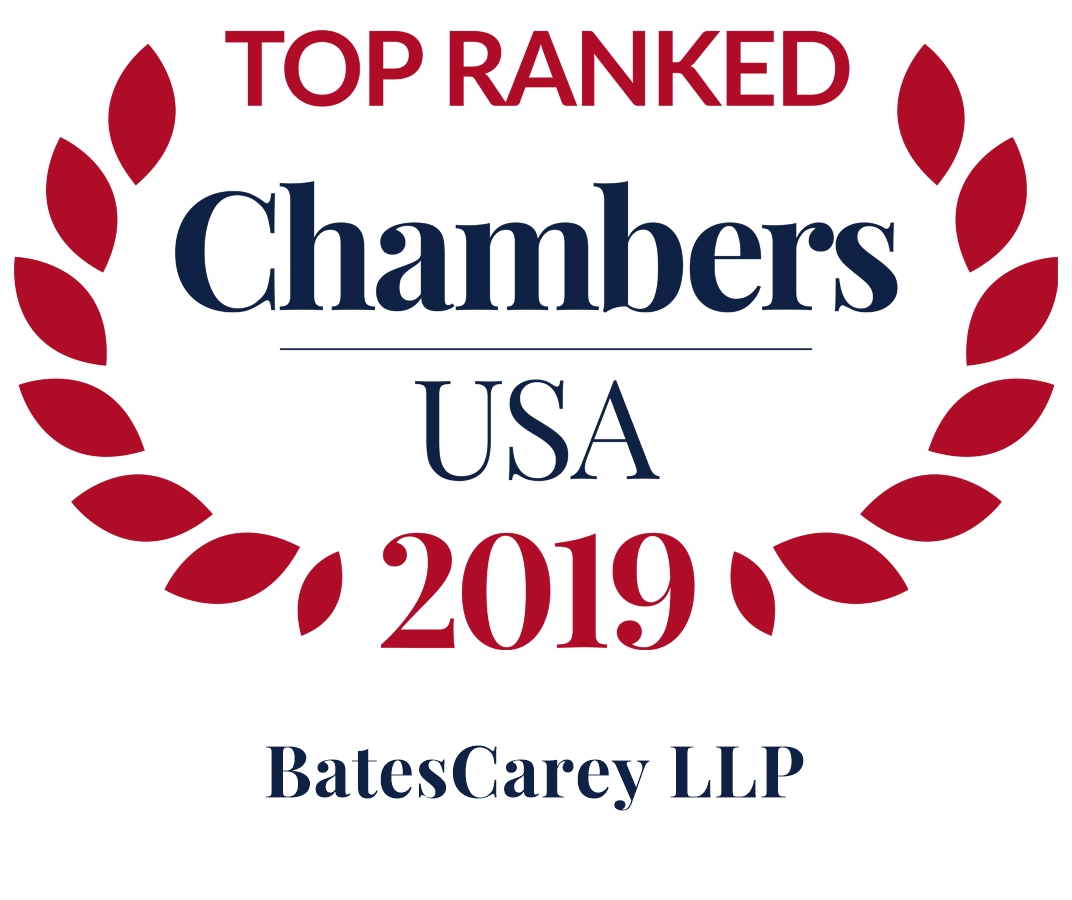 For the 15th consecutive year, BatesCarey has earned top recognition as a leading insurance coverage firm from Chambers USA, the legal industry's most respected rankings list. 
Since 2004, the firm has been ranked each year as the top firm in Illinois for Insurance Dispute Resolutions: Insurer. Firm founding partner Robert J. Bates, Jr., Adam H. Fleischer and Ommid C. Farashahi once again all received individual high ranks in this category. 
This year marks Bates' debut being ranked nationally by Chambers for Reinsurance, adding to his long-standing place as a top Illinois attorney in Insurance and Reinsurance, including his Band 1 ranking in Insurance. 
In the Chambers USA 2019 edition, clients had high praise for the firm as a whole, naming it Band 1 and one of the best firms in Illinois for insurance. It lauded the firm is "Excellent for complicated and high-exposure matters (with) the best customer service in the business … always on top of providing us with updates, responding promptly and providing us with succinct summaries." 
Bates was among only six lawyers ranked nationally in Reinsurance and in the 10 best in Illinois in Insurance and in Reinsurance. Clients lauded him as "Well regarded for his considerable expertise in an array of contentious insurance and reinsurance matter … a superb reinsurance lawyer." 
Fleischer was named among the top 20 in Illinois in Insurance and "An outstanding attorney and professional in every sense of the word … a very knowledgeable and very responsive strategic thinker." 
Farashahi ranked among the top 30 lawyers in Illinois in Insurance and was recognized for his D&O and professional liability work, as well as his "Thorough analysis of the coverage issues as well as a thoughtful, practical approach to resolution of the disputes." 
"Our firm has achieved a top ranking for 15 years due not only to the continuity and experience of our senior counsel, but also because of the integration of dynamic young coverage attorneys," said Bates.  "The additions to our team in recent years have fueled the enthusiasm and innovation that provides our clients unparalleled service and strengthened the foundation of our top tier reputation." 
These Chambers USA 2019 rankings follow closely BatesCarey's prominent showing in other industry award rankings, including having 10 attorneys named to the Illinois Super Lawyers and Rising Stars List, as well as a dozen attorneys recognized by Illinois Leading Lawyers. 
Chambers and Partners has published guides to the legal profession since 1990. With a team of more than 200 editors and researchers, they identify and rank the world's best lawyers and law firms based on in-depth, objective research of lawyers and clients. For more information regarding these rankings, see chambers.com.