BatesCarey Keeps 16-Year Streak as Leading Coverage Firm in Chambers USA
4.23.2020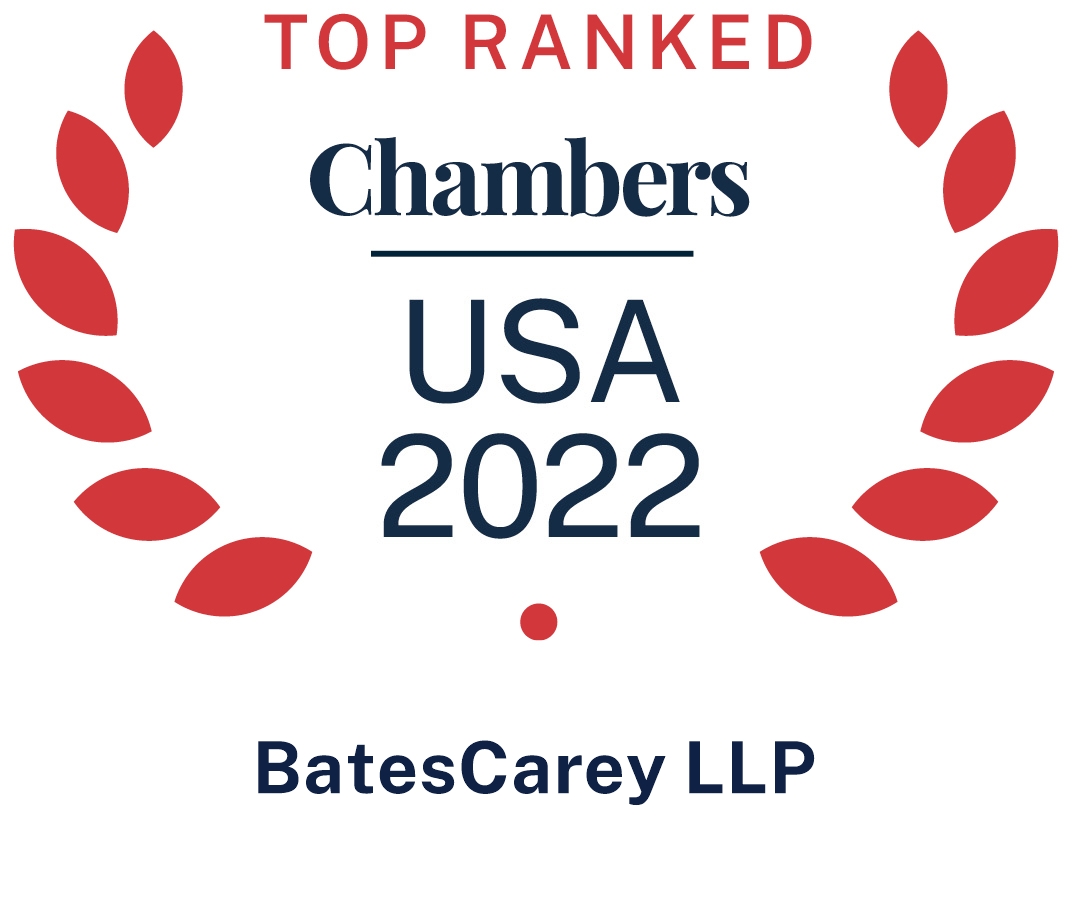 BatesCarey once again earned the top recognition for insurance coverage firms from Chambers USA, making 2020 its 16th year of uninterrupted accolades from the legal industry's most respected rankings list.
The firm has been ranked in Band 1 in Illinois for Insurance Dispute Resolution: Insurer since 2004 and in 2020 was one of only two firms to receive this premier ranking. Clients lauded the firm for its strong national practice as well, saying attorneys are "very knowledgeable country-wide" and are the "go-to coverage firm."
This year extended the streak of partner recognitions as well, with firm founding partner Robert J. Bates, Jr. again lauded for his work nationally for Reinsurance and in Illinois for both Reinsurance and Insurance.
David F. Cutter, Ommid C. Farashahi and Adam H. Fleischer all ranked for their work in Insurance in Illinois. Debuting on Chambers' individually ranked list is partner Mark G. Sheridan, who was recognized for his Reinsurance work in the state.
Bates was recognized as "one of the deans of the insurer side Bar in Chicago" with "considerable expertise in handling insurance disputes, frequently acting for both insurers and reinsurers across a range of complex matters."
Cutter was described as "a respected insurance attorney who frequently litigates a wide array of coverage disputes."
Farashahi was called out as "extremely responsive…his analysis is always thoughtful. He thinks outside the box, and he is concise and thorough."
Fleischer was lauded as "an excellent attorney with broad, national experience and extensive knowledge about many aspects of coverage."
Sheridan was named for his ability to bring "superlative knowledge of reinsurance contract terms to the table, resulting in compelling arguments as to key coverage aspects of the case."
"This achievement is a testament to our attorneys who continually navigate how insurance coverage will respond to society's most pressing challenges," said Bates. "Our deep bench of attorneys allows our clients to stay ahead of issues from COVID-19 to the opioid crisis, and we are grateful to them for these continued accolades."
The Chambers rankings follow other recent firm recognitions, including nine attorneys selected as 2020 Illinois Super Lawyers and Rising Stars and 11 attorneys named 2020 Illinois Leading and Emerging Lawyers.
With more than 200 research analysts on the Chambers and Partners team, the best lawyers and law firms from around the world are identified and ranked based on in-depth, objective research of attorneys and clients. Their team has published these guides on legal professionals for 30 years. For more information on these prestigious rankings or their methodology, visit Chambers.com.